Our SEO for dentists product works very well.
Below is just one example of how we optimize your dental practice.
You can see in the below pictures how we name and describe each and every page of your site to assist search engines and potential patients to find you.
We are able to create the title and the description that show up in the search engine prior to users clicking on you.
In the below pictures you can see clearly how the search engine named our page exactly what we wanted and how the description shows up exactly as we want it with our key words. (click pictures to enlarge)
the below picture shows how we filled in the data in our software: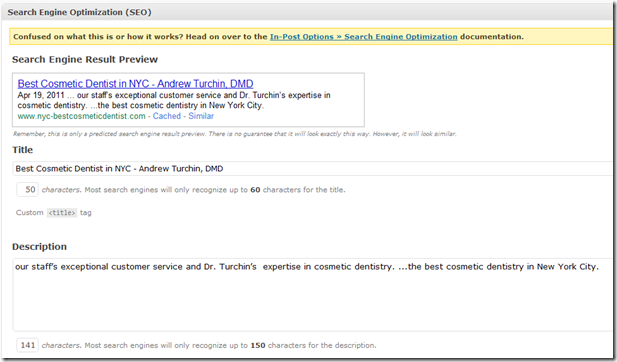 The below picture shows how the search engine shows our results:

Contact us today to start internet marketing for your dental practice. We can give you an online virtual demonstration of how well our product works.
Best Marketing NYC
212-686-0806
(cross-posted on www.dentists-marketing.net)