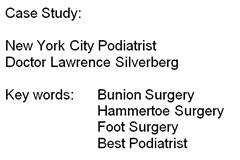 Dr. S. was our first client. He has been using our service for over one year and has been extremely happy with our service. He has seen exponential growth in internet patient referrals since starting.
He recently reported a record week in which his group saw 32 new patients in five days.
We choose keywords based on revenue generation for the three surgery terms above and the word 'best' based on what we found most people were searching for.
Before showing you the amazing optimization results we achieved for this doctor, I will explain how we select the key words. The first thing we do is ask the doctor what procedures or services they would like to do more of. Sometimes it's for monetary reasons and other times for personal enjoyment out of their job.
The next step is to look at which keywords get the most searches in the search engines. For example "hammertoe surgery" gets 8 times as many searches as "corn surgery".
Below is an example of Dr. S.'s amazing results in search engines:
The first is the main page of Google. Notice Dr. S. is the first listing in the organic (non-paid) results, under the paid advertisements. In fact, at this time all of our existing clients are only using us for organic search. We can assist you with paid "pay per click" marketing if you request, but we find the organic results work much better and cost much less. (click any picture to enlarge)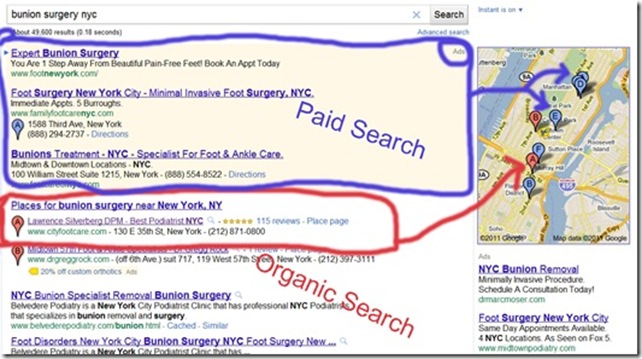 Sometimes the local results do not come up in the main page of Google. People looking for a local doctor online will not see any addresses for the search results. Many of these people will then click on the maps on the top left of the main page.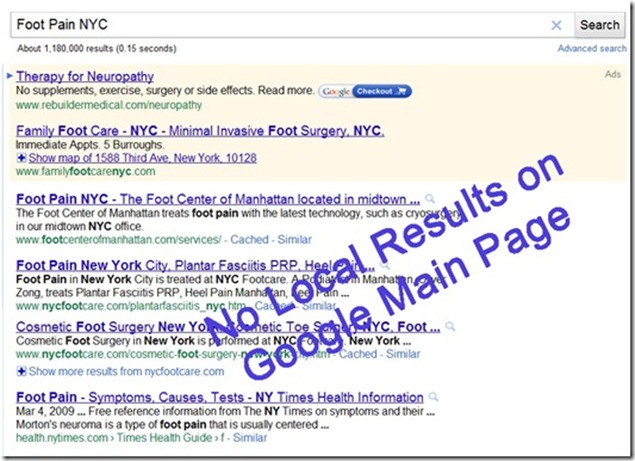 People will click the maps link to find local search results!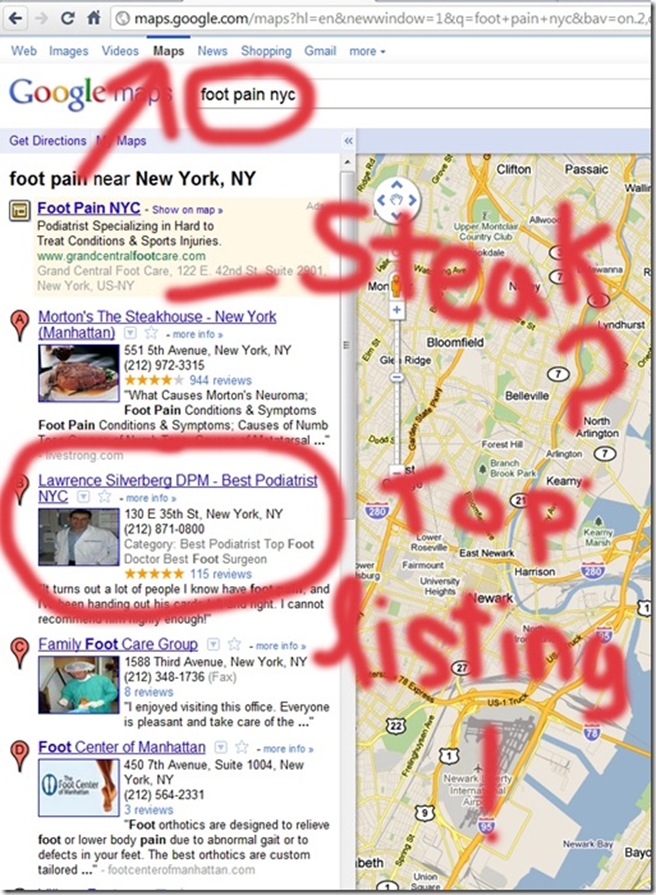 So, you can see our doctor got to the top of the organic Google search where lots of people will find him and make appointments.
You too can be listed at the top of the local search engine results page. We specialize in marketing for doctors and other professionals.
Contact us today for a free demonstration. We also offer a great low risk deal to get you started. ==See offer, click here!==
Summary: Try using these keywords in Google to see it really work: