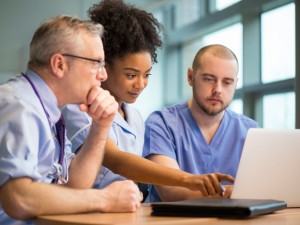 As a medical professional, the last thing that you need to worry about is how to get your clinic, practice, and office information out to the general public. However, more and more the importance of online marketing, and having your website show up in the top of the organic search engine rankings, is becoming a part of doing business.
This is where we can help. We understand SEO for doctors and healthcare providers, and how changing some of the terms and the structure of a website can make a very big difference in how easily your patients can locate your practice.
To understanding the importance of SEO for doctors, or any healthcare providers, let's break it down into basics.
What is SEO for Doctors and Why Does it Matter?
SEO or Search Engine Optimization is not a new concept. It has, however, evolved over time from simply using a specific number of keywords in a percentage on a page to integrating top quality content, the use of specific tags and descriptions, and a range of other different factors.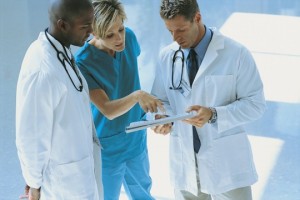 These different factors include titles, links, what words are used in the links, and the reputation of the links selected for the website. Each search engine uses these factors in specific algorithms to search each website, and each page within a website, to develop a list of most relevant websites by search terms.
The higher your website ranks, the more likely it is to be seen by the people you want to learn about your medical practice. Each person clicking on your website from those search engine rankings helps to boost your ranking just a bit more, which is why traffic to your website through SEO for doctors is so critical.
Organic Search Engine Rankings and SEO
Whenever you search for something using a search engine, you enter what are known as search terms. Those terms are matched by search engines to specific words on specific pages on all websites across the internet.
Those webpages that are ranked highest, which is established through complicated algorithms that include keywords, unique content, page visits, and other factors, show up at the top of the list. This is known as the organic search engine results, and they are completely free and cannot be influenced by any paid advertising.
The Challenge
We take the challenge out of developing your website for optimal SEO for doctors and healthcare providers. We will carefully analyze the keywords your current patients and new patients are using to find services similar to yours. We will also review your website for links, connect to your social media platforms, and also integrate your other online marketing programs to support your SEO program.
With our experience in SEO for doctors, we know how to boost your visibility online using proven, credible, and completely ethical techniques. While SEO is not a quick fix, you will see your ranking in search engine results move up, and you will see an increase in traffic to your website.
We are here to talk to you about how we can help get you the online visibility you need in search engines. To get started with your new SEO for doctors contact us today for an appointment with the most experienced, professional and results-driven marketing company in NYC.